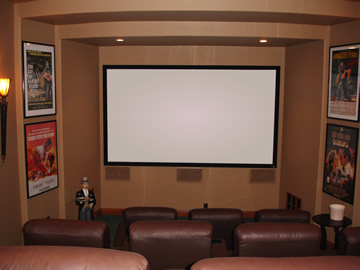 Bring the Theater to the privacy & comfort of your home.  Home theaters are home entertainment set-ups that reproduce movie theater video & audio feeling in a privacy & comfort of your own home.  We can a create a home theater that can be a modest-size 26 to 32-inch TV, combined with a DVD Player, home theater receiver with speakers.  Or we can
create a CUSTOM Built Home Theater with Video Projector, Large screen
TV's, DVD/Blu-Ray Disc player, Network Media player, Amplifiers, In-wall speakers, and Sub-woofers, Theater seating, and Custom enclosures to indeed duplicate the movie theater experience. Ideas are endless.
Whatever type of system is best suited for you, we can provide it.  The term "Home Theater" can be intimidating an In-Home Consultation will help us to create the Home Theater that best fits your needs & desires.
 Contact us today for an appointment.